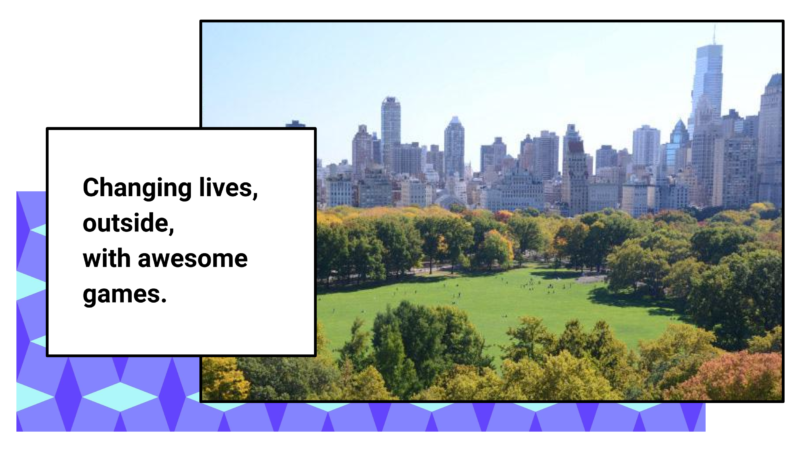 Trainer
Chris Harbur, a professional sports trainer, founded Let's Go Play NY! with the goal of helping kids between the ages of 7-13 build confidence and have fun outdoors while developing physical, emotional, social, and mental skills. His proprietary one-on-one coaching method makes personal training feel like a video game and engages kids of all kinds to grow as an athlete and expand their XP in the real world.
Demand has quickly increased and our start up is expanding to hire trainers who can serve our players.
The role
The trainer's main goal is to deliver non-stop, high quality fun during our two hour, one-on-one sessions and three hour group sessions. Our players have intense schedules and we provide a safe and structured way to escape from the grind while focusing on skills that are often overlooked at school. Trainers are high energy, love working with kids, and inspire excitement. They are proficient in a variety of sports, including soccer, football, basketball, baseball, and ultimate frisbee. Always prepared, organized, and punctual, trainers are reliably one step ahead, professional and confident at communicating with kids, parents, and colleagues.
duties & responsibilities
Customer Service
Deliver an exceptional gaming experience to players that's engaging and always fun

Develop and maintain a strong working relationship with parents
Training
Pickup & dropoff usually on the Upper East & West Sides of Manhattan

Two hour one-on-one sessions during the week afterschool and possibly on the weekends

Three hour group sessions usually during the weekends
Videography & Editing
Record videos of progress on key skills during sessions and quickly edit them (we'll teach you this), sometimes with the player, at the end of the session or just after for quick delivery to players and parents
Admin
Track player progress using our scorecard system and deliver an overview of each session to players and parents

Collaborate and prepare with the head trainer during weekly meetings to update session plans for each player on your roster

Communicate with parents via text, phone and/or email regarding the logistics of your sessions, including pick up, drop off and snacks. Field any questions regarding goals, progress, and the training method
Sales
Use our outside sales methodology to organically generate awareness for our programs and get the contact information of potential players for HQ to convert into customers
Professional Development
Participate in regularly scheduled professional development sessions to improve your skills as a trainer.
attitude & qualifications
Positive, supportive & compassionate

Ability to maintain an infectious, high energy

Organized, prepared and responsible

Team player and creative problem solver

Growth-oriented and open to constructive feedback

Desire to be the best at what you do
We expect familiarity with our core sports of soccer, football, basketball, baseball, and ultimate frisbee. Priority will be given to experienced personal trainers and sports coaches with a demonstrated a track-record working with kids. Experience in formal educational settings will give you a distinct advantage. Priority will also be given to candidates with skills in graphic design, digital marketing, business management, employee management, and/or human resources.
Commitment & compensation
The hiring process is intensive with 6 stages.
Application

: Resume & cover letter

Game Day

: One to two hour, in-person session to test your physical skills, often in a group setting.

Manager Interview

: One hour interview with a manager to learn more about you and provide an opportunity to learn more about LGPNY.

Test Session

: Two hour mock session where you demonstrate our core training skills with a manager who plays the role of a kid.

Shadow Session

: Two hour session to observe and learn from an existing trainer.

Final Session

: Two hour session to demonstrate proficiency at all the duties and responsibilities of a trainer.
At each stage, you will receive a score based on a rubric as well as constructive feedback so you can improve. If accepted, you will participate in a mandatory onboarding process to transition players to your roster and set you up for success.
After your first 3 months as a trainer, you will be expected to deliver a minimum of five one-on-one sessions per week with a maximum load of 10 sessions. You will also be required to participate in regularly scheduled and paid group events, with the goal of adding players to your roster and/or wait list. You will also participate in occasional professional development sessions to improve as a trainer.
You're schedule will be determined by the number of sessions you have booked. Sessions with players are generally between 3pm to 6:30pm on weekdays and between 9am-6pm on weekends.
Your earning potential for the first three months is up to $650/ week as an independent contractor. After three months, your performance will be reviewed with the potential for a raise. If you're able to fill your schedule with 10 sessions/week, you will be given the opportunity to become a part-time employee. If you demonstrate excellent training and managerial skills, you will have the opportunity to become a manager and full-time employee after 18-24 months.

application iNstructions
Please submit your resume and cover letter to [email protected]. Use "Trainer Application" as the subject of your email. If your application is accepted, you will be asked to provide three professional references who we will contact for a phone interview. We recommend lining up those references before applying. We will also run a background check.
Want to Ace the application?
Here's a link to our evaluation criteria as well as a special detail you can add into your application to show you went the extra mile to be prepared.